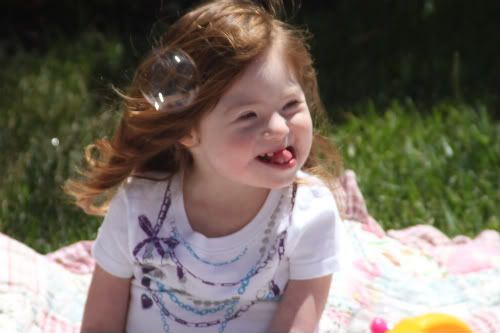 So,I have been hesitant to put this out there.Might be my superstitious, try not to jinx it, ridiculously warped way of thinking.Who knows why exactly?Hard to tell.But tonight seems like as good a time as any to share.It's a topic that I have touched on from time to time.A subject that has seriously frustrated the heck out of me in many moments.I think,well,I actually know,that I have shed tears over it.Shameless,wasteful tears.And I have given up a whole bunch of times as well.Resigned and talked myself into believing I just didn't care or that it didn't matter but really,in the end,it did matter and I did care.A lot.
The topic:Food.Zoey and food.Zoey and not eating food.Zoey losing all of her oral eating,in what seemed like a blink of an eye.My girl, that was g-tube fed,24 hours a day,for the first 6 months of her life.Me,pumping milk those first 6 months.Hoping and praying that she would somehow miraculously start nursing.Them,the naysayers,looking at me with their pity filled eyes,wondering was I actually entertaining the possibility that a child with Down syndrome and a host of other issues,was really going to just take up nursing at some random juncture in her little life.Well,I knew she would.I knew that once her heart was repaired,that the child that I watched and willed, with every fiber of my being,to live,I knew,she would.And she did.And it was miraculous and just as quickly,in a little over a year,nasty seizure meds. and even nastier chemo,would rob her of it all.
I told myself and everyone else, that it was fine.That all that truly mattered was that she was here.Alive.And it was true but still I hated the fact that she stopped nursing and stopped eating her heaping bowls of babyfood.So,we did feeding therapy.Lots and lots of feeding therapy.Until I could no longer take it and she,she was so very over it.I literally had every tool and every trick of the trade and still,nothing.We took breaks every now and again and when I started back up ... nothing.And then,about a month and a half ago,I plucked that child down in her high chair and we had a go at it again and this time,this time,she didn't cry.She opened her mouth and she took a spoonful.And then another.And then another.It wasn't pretty but it was in there and we high fived and clapped and cheered and she ate.And she continues to eat.
It still isn't pretty.But it is getting better.She is up to 2 jars a day.2 jars.I can hardly believe it.A beginning.A beautiful,hope filled beginning.We have had many of those over the last 4 years.With each one of them we find ourselves rejoicing.We marvel in this child of ours and we are reminded by her mere, yet spectacular existence, to never underestimate the power that lies within the tiniest of fighters.Why I lose sight of that along the way from time to time,is beyond me.But I really needn't look far for that reminder,it lies right before me, everyday,as Zoey works so very hard to live up to the anthem of her magnificent life .... "Slow and Steady Wins the Race".Yes indeed it does baby girl.Yes it does.