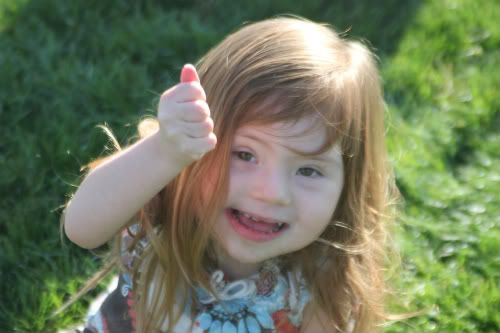 Zoey's neurologist and I, do this little dance every 6 months. He sits there, hand on chin, leaning back in his chair looking very contemplative, and I sit there, trying to read his face before he speaks, my stomach in a knot trying not to puke, awaiting word on whether the time has arrived to start weaning Zoey off her seizure medication.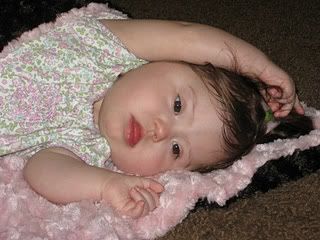 The seizure days.
Yesterday, our visit went much as it usually does, except, for the end result. Up until yesterday, we always decided to put off weaning. Found a reason, anything, mostly at my coaxing, to put off the inevitable. But yesterday, he said, it's time. My amazing pediatrician, who I always pull the "What if it were your child?", unfair card, also agreed. To which I said, okay, let's do it. But it really wasn't that simple. Hardly. It was actually very difficult and even today, I am not sure I am making the right choice. I can change my mind. We haven't begun yet. I can keep things status quo. My choice. He won't force me to do anything I am not confident in doing. But the thing is, I do trust him. Dr. Shields, is highly respected in the field of neurology. Especially where Infantile Spasms are concerned. That is why we went to UCLA, almost 4 years ago. At a time when we were not able to gain control of her spasms with 2 frontline drugs and then, when her seizures morphed into tonic and complex/partial seizures. So a part of me says, take the leap, trust in the data, and trust my girl.
The, I lost my little love, days.
But that pit in my stomach is still there. The thought of returning to seizure days, almost unimaginable. We have a 50-50 chance of that happening. And as I said to him, if I were a betting woman, I wouldn't take those odds. But for some inexplicable reason, I do believe, come the first of the year, literally, January 1st, the weaning process will begin. Very, very slowly. He said decrease her dosage by a 1/4, every 3 weeks. So we are looking at a 3-4 month process until she will be completely off. Terrifying really. The going back to watching and waiting and saying, to each other, "Was that anything?", to every out of the ordinary movement. Zoey actually has many neurological movements that are out of the ordinary, all day long because of her brain injury, so the watching will be a tad bit stressful. And those of you with children who have or have had seizures, you know exactly what I am talking about. I have been going back and reading my archives from those days and I tell you, reading those posts, bring things back in an instant and reminds me of why this process scares me.
This one post
especially.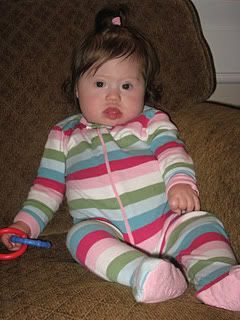 The rip my heart from my chest, days.
So why wean? Well, her medication is a known cognitive dulling drug."Dopamax", is it's nickname about town. It is a known appetite suppressant. People actually seek this drug out for weight loss purposes. My child weighs a whopping 22 pounds. She is nearly 5. Would be nice to see if we can get her a bit more interested in food. Topamax is a drug that has been known to inhibit speech development. Some children have been taken off of it and lo and behold, there comes speech. The speech argument, will be interesting to see play out because although Zoey's stroke was on the side of her brain not responsible for speech, the timing of her stroke, in-utero, meant that at the early stages of life, speech is still bilateral and therefore, is her lack of speech a result of her brain injury or is it the topamax hindering it? Should be interesting. And scary. And nerve racking.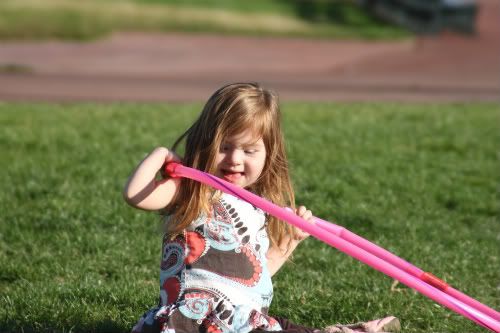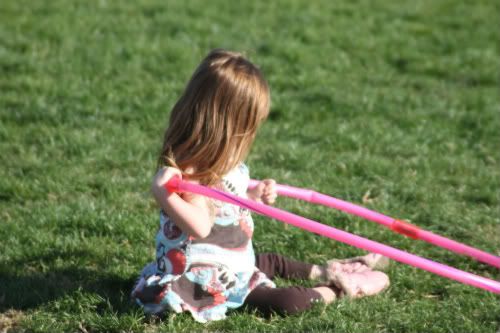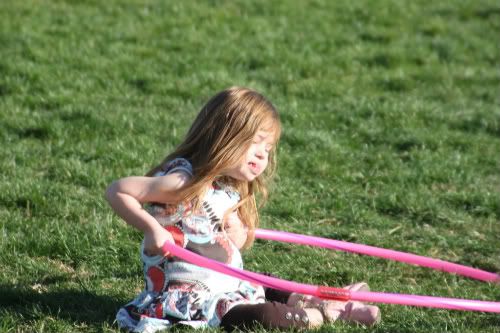 However, it also could be absolutely magical as well. Zoey might just emerge and develop in ways we could never have imagined. She just may come out of a fog that we didn't know she was even existing in. She just might, once again, surprise us all, and flaunt that feisty spirit of hers, all the more. These series of pictures were taken last month. We were at our local Down syndrome Buddy Walk, which Zoey was thoroughly not impressed with, until ... we removed her from the commotion and over stimulation and we placed her on the ground. She scooted herself over to this hula hoop and I was blown away that she did not hesitate for one second to pick it up, the very best she could and attempt to use it in her own unigue and I must say, accurate way. And, I need to add, there were no children around for her to model either. She did it on her own. I had absolutely no idea that
SHE
has any idea how a hula hoop was used. That should tell me something, shouldn't it?
Wish my girl luck. Send her prayers and wonderful happy, seizure free thoughts, okay? I am thinking she deserves it.