I knew that today and possibly tomorrow, depending how this post goes down, were going to be the most difficult of the 7 days. And not really from an emotional standpoint either. Amazing how you can become somewhat desensitized when speaking of things that to others are so foreign and surreal and for you, well they have become just a part of who we are. The problem really is, that I have no idea how to adequately and concisely convey Zoey's journeys with, and astoundingly her journey through,
Infantile Spasms
and an 8 month battle with leukemia. How could mere words, in a space such as this, honor those roads she traveled.
And least we forget the fact that both of those things were thrust upon her in the same calendar year. That little diddy, is mind boggling to me. So, the thing is I am not going to try and get it all down in some chronological order. Simply impossible. First of all, the size of the post (speaking of size, no idea why this font suddenly got smaller) would be ridiculous in length, it probably will most likely be anyway, and some where along the way, I would actually, lose my way.
Sidetracked by the
complexities of the roads traveled. Most likely never quite giving Zoey's journey's with these two beasts, the justice it all deserves.
I went back into the blog archives last night. I was thinking that it might help me organize my thoughts by reading my words during those dark days. Even surprising myself as I read some of the words I wrote. Surprised in some moments by the strength and faith I found at the most inexplicable times and then in an instant, reading words of such despair and hopelessness.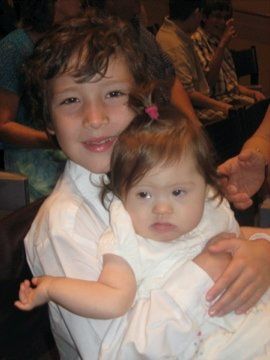 This picture is not a picture of a child who just didn't feel like smiling. This is a picture of a child lost in a fog of medication and chaotic brain patterning. At this point, Zoey had stopped eating, smiling, rolling, and babbling. We had lost our girl, in almost every sense of the word. This was Zoey celebrating her first Easter. Much the way she celebrated her 1st birthday. We have no pictures of that day. Not one.
During the seizure days I wrote:
"I want joy to reside in my home again. Replace the bitter, stressed, hopeless, inhabitants currently taking it's place. Have I asked too much? Expected too much? Not been obedient and appreciative of the gifts I already have been bestowed? Am I being punished for some past transgression and my child and family are the innocent casualties ? I really cannot wrap my head around it any more."
And:
"Helplessness is defined as" powerlessness revealed by an inability to act." That definition pretty much defined my day yesterday. What that word or rather that feeling did for me was to bring to the fore front of my memory some very distinct images from our life this past year.Yesterday I was reduced to such a helpless state again. As I tried to no avail to comfort an innocent, 15 pound, 13 month old baby, as her body had to once again learn to adjust to yet another unnatural assault. No amount of nursing, rocking, singing, talking, playing or distracting could soothe this child. Her body was in a constant state of stress and
rigidness
. She was inconsolable the majority of the day and at one point as she lie
flailing
in my arms, her eyes wide open, looking directly at me, as if to say," please help me." And I couldn't."
Or these words, written a few weeks after Zoey's leukemia diagnosis:
"I feel beaten and broken tonight and so uncertain of my ability to see this through with the grace and dignity that Zoey so deserves.Personally,for me,tonight is one of the darkest of the last few weeks.I feel lost,scared and alone.I feel shame,anger and down right despair."
Well you get the idea. Two different diagnoses, with common threads. Two diagnoses, that alone seem almost insurmountable, but pair them and they seem impossible.
ADD
them to Down syndrome and a major heart defect and a stroke and other various miscellaneous obstacles and well, is it a wonder we didn't give up? Is it a wonder that Zoey did not give up?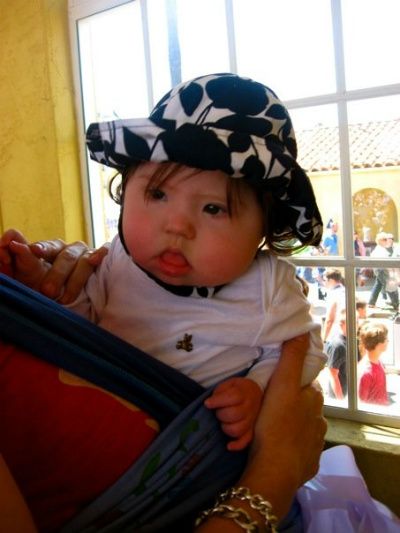 This was Zoey ... puffy and feeling the effects of the hard core ACTH drug. The drug ultimately failed, as did another front line drug, Vigabatrin . But this picture, taken the first day of June, would represent Zoey's resurgence back. A new drug, Topamax would unexpectedly, lead her to seizure freedom.
I remember vividly the evening I received the call from my pediatrician saying that Zoey's EEG showed a diagnosis of Infantile Spasms. It is an evening, that to this day, I can recall moment by moment. I did one of those moves that you have maybe seen in a movie a time or two before. I answered the call. Listened. Backed against a wall and slowly slid down the wall, into a heap. Sound dramatic? Link up to Infantile spasms and read about them. Read some blogs of families and their children trying to claw their way out of this catastrophic form of epilepsy. It is nasty, insidious and often unrelenting. This mother, stayed in the same clothes for three days. Did not shower. Cursed God. Shut out my family and friends. Basically, lost my mind for three consecutive days. Until, like I had done so many other times before, I picked myself up, and decided, that once again, my little baby was not giving up, so I had no right to either.
And the same went as cancer came knocking. I walked onto our oncology floor the night of October the 29th, 2008 and I was speechless. Sobbing, but speechless. One of the only things I remember saying, as we were greeted by the attending, as she spoke of the 'plan', was that there was a possibility that Zoey would not be able to remain on her seizure medication due to an interaction with the chemo drugs they would be administering. I remember pleading with her and telling her that Zoey could not go back to her days of seizures. Begging her to tell me that they would not wean her off.The doctor made no promises but in that moment, with my newly diagnosed child with leukemia, I would come to know, what I have repeated countless times before: For me, the journey with seizures was in many ways darker then the prospects of fighting cancer. I stand by that to this day.
However, with that said, the incomprehensible and most devastating moments with cancer, involved the love and the loss of our precious friends. Many of which I have shared with you all, over the years. Children I have come to love as my own. Families that have become extensions of my very own family. Cancer has changed me and robbed me of pieces of myself, that I will never retrieve. But mostly, cancer has ripped precious children from the arms of their loving parents and adoring families. I will never, not ever, reconcile with the things I have witnessed over the course of the last 3 years. I will never understand. At least not this side of heaven.
But all the while, as I read through the months and months of past posts, the thing that was resonated time and again, was the the strength and resiliency of Zoey. Her unwavering ability to rise above all that was unleashed upon her. The amazing and inspiring manner in which she made her way, and doing so with such unconditional and forgiving love. I was constantly being lifted and propelled forward by the courageous example of my not yet 2 year old.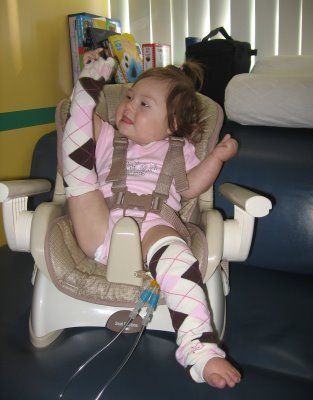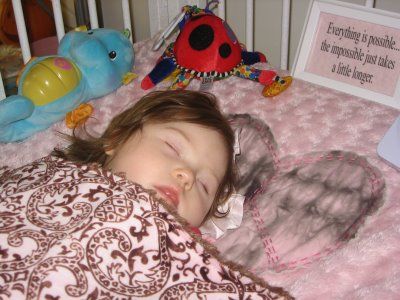 These were taken during Zoey's 1st round of chemo and the subsequent rounds, look much the same. She made fighting cancer, look almost effortless. She truly did. She not only decided to keep all of her hair, she decide that during chemo might be the perfect time to master sitting. Hows that for showing cancer who was going to dictate the course to be taken?
I remember way back, while in the NICU ,on a day that I was wondering how it was we were going to find our way through the moments that lay ahead, I was approach by one of the attending doctors. She paused in the hallway, as I was leaning against a wall. She asked if I was okay and when I remarked to her, that I was beginning to question how and if we would find our way and I questioned why it was we were going through this with our innocent baby, she said something then, that was a defining moment of my journey. It was something I have repeated to other parents struggling with purpose and plan. She said, "One day, Zoey will show you why and she will be the one to show you the way."
And Zoey has. Each and every step of the way. She has been our trusty guide.
Unfairly so, but nonetheless, shouldered it all and became a beacon of hope through the darkness. She has been our fearless leader. Our hero. Our inspiration in this life to live larger, love deeper, give unselfishly and remain faithful in the face of uncertainty. Our beautiful blessing. We do not have her in our lives because we possess some super human strength for the unimaginable. Instead she brought the undeniable truth, that we were in fact weak. She called us to change. And we answered. She has been our
saving grace
.
She is the one we had been waiting for all of our lives.
"Some luck lies in not getting
what you thought you wanted
but getting what you have,
which once you have got it
you may be smart enough to see
it is what you would have wanted
had you known....
~ Garrison Keillor