And so,another one leaves.Doing what we all wish and hope for as parents ... using those wings that they brought with them into this world and finding their way oh so beautifully.But as they venture back to their own space and own lives,my heart aches just a tiny bit.To say that I am proud of this little family of three,is a huge understatement.In fact I don't think I could adequately express what I feel as I watch them doing their thing.As a mother it transcends simple words.
We have been blessed to have had Danny,Caitlin and Charlotte here with us for over a week.A precious week and a half.The majority of those days have been carefree and simple and unrushed.Time for baking and game playing and visiting and snuggling and reading.Many late nights filled with just the company of each other.Days filled with the magic of watching the kids run wildly about.The weather here in the usually sunny California,was not very cooperative for a whole lot of outdoor play but a fun bike ride was squeezed in between the rainy days.And then, there were the melt your heart moments,like Zoey signing "baby" most each and every morning and pointing downstairs,knowing that Charlotte would most likely be down there waiting.
I will miss their daily presence here with us and anxiously await the summer, when graduate school for Danny will allow them to move closer.Until then,I will keep the memories of this past week and tuck them away deep within my heart and call upon them to sustain me in my missing them moments.Love you so,my beautiful little family of three.Love you more than you will ever,ever know ...
Charlotte loved banging on the piano keys so we would just leave it open and on for her to wander over whenever she pleased.
Hanging with uncle Jake.
Caitlin did all the baking.I watched and took pictures and did the clean up.We are a good team.
Reading with Pop-Pop
Outside,after throwing our traditional reindeer food,so Santa could find our house.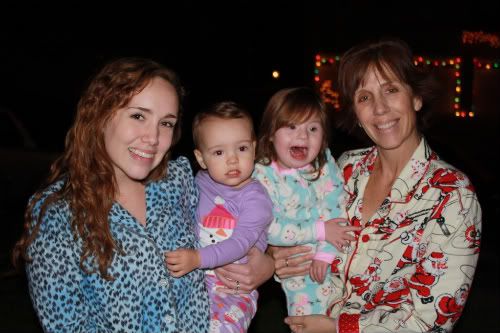 Charlotte and her favorite gift of Christmas ... silky ribbon Santa left for her in her stocking.
Charlotte was left home with Mimi and Pop-Pop when her mommy and daddy ran to the store ... she longingly and pathetically waited for them at the window.
Playing airhocky with Pop.Would you notice Uncle Joe loving on Charlotte in the background?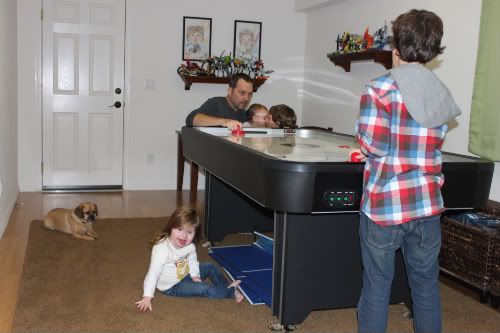 Taking a bike ride on the trail behind our house.
My precious girl and her precious niece.That still sounds strange,doesn't it.