"What I hope for my children is that they will feel deeply loved and strong enough in themselves so that they are able to carry out their own journeys with courage,heart and mindfulness."~Nicole Chaison
And the girl is off again.Felt like far too short of a visit, that is for sure but it certainly was sweet.So much so that my picture taking was minimal.At best.Instead,my heart, abundantly full with beautiful memories.Sometimes busy,loud,chaotic beautiful memories.But that is us.And I wouldn't change it for anything in this world.Anything.
Love you Taylor Morgan.See you in April.And of course on Skype till then.Be safe.Be good and please carry our love with you as you go ....
A little something to keep your hands warm,on those cold days and nights while in Switzerland ..
One of the many precious moments to keep your heart warm when you miss your little Zoey girl.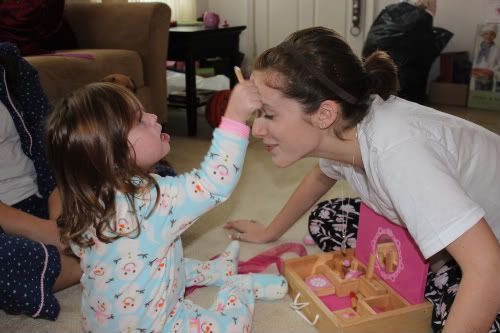 A little something for us.To watch when we miss you.To remind us that you do indeed rule the "Michael Jackson Wii Experience".