And Monday comes and with it,most begrudgingly,our routines must return to their former states.Bummer.I actually think I am in denial.I have so loved the kick back days.The time spent with my big girls and my beautiful grandbaby.My husband that took some uncharacteristic time off from work.The lazy mornings that turned into completely lazy,unproductive days.The boys bringing new meaning to the term pajama rats.And Miss Zoey, content wearing the wardrobe of choice ..on most days, comfy cozy,in her warm footsie jammies.I have been known to tubby or shower her,only to return her back into a clean pair of pajamas.Wouldn't we all like to be able to do that?Wait,I think I actually did do that a few times over this winter break!
I will however,unfortunately also have to do some serious video/Wii deprogramming,detoxing, with the boys ... they are so going to hate me when I re-implement the no electronics rule,on Monday through Thursday's.I will be watching closely for signs of physical withdrawal ....and you think I'm joking.Definitely not.The weather here has not helped matters.Our usual sunny California weather has been scarce to say the least.As I write, it is dark,gloomy and pouring rain at 3 pm.Not the the stuff that will illicit motivation of any kind,that is for sure.Yep,definitely in denial.
Christmas came and went far to quickly once again.Much like this past year that evaporated into thin air.Jake commented the other day,"I think it was in 3rd grade that I realized that time goes by fast."He is only 9 years old for gosh sakes.Hearing him say that made me sad.Realizing that we all feel the passing of time in our own way.No matter our chronological age.For me,this side of 40 and closing in on 50 in a few years,the knowledge of that resounds loud and clear within my head as well as my heart.I think too,having already raised 3 into adulthood,I know that in a blink of an eye the years fly.So perhaps that is why I hold on a bit tighter to these moments.I can't slow down time,try as I might but I do have the choice of how I spend that time.That is about as close as I will come to making New Year's resolutions.I am notorious for breaking them.So I'll focus on time.How I use it.How I give it.How I honor it.What I do with this precious gift of time.As for tomorrow ...
Like it or not,we start right back with stuff.Like PT stuff.Been a PT slacker as well this Christmas break.Don't want to get up and drag her there.Have to though.Or at least should.So I suppose that means I will.Then,joy of all joys,just the way I want to kick start the new year,Zoey has a check up at UCLA with her neurologist.Always a fun time.The drive.The waiting.The discussion ... we will once again revisit weaning of her medication.I still am not clear why we need to even entertain that though.I subscribe to the theory,if it ain't broken,don't fix it but for some reason,her neuro has other ideas.Ones I really need to understand more fully before we go that route.I do trust him,Zoey's neurologist,you see.It's sneaky seizures I don't trust.Bottom line for me is,Zoey is doing fine.Has she plateaued off a bit in her development?Yes.Absolutely.But even though her medication can sometimes have a cognitive dulling effect and can inhibit speech,and in some rare cases,stunt it all together,I am not naive enough to believe that her medication and her currant dosage has anything to do with what she is or is not doing.I pretty much fully and soley rest that on the shoulders of that damn stroke.I am however, very realistic as to where she is at and at this point and strangely enough,at this moment,I could care less.Now that could change from day to day,without notice and most likely will,but for now,it is what it is.So I am pushing for no med change,thank you very much.
I'll keep you posted.I leave you with a few pictures of Zoey with her darling makeup kit she got from Caitlin and Danny.She was so darn cute with it!
First a little blow dry ...
Then a little lipstick ...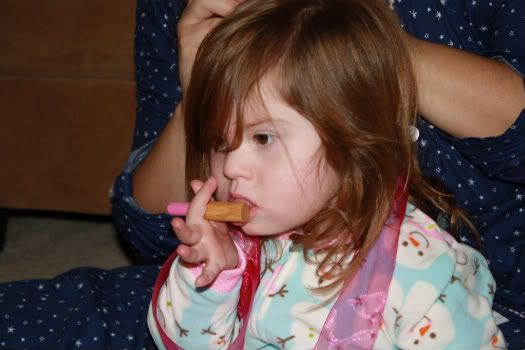 A little blush ...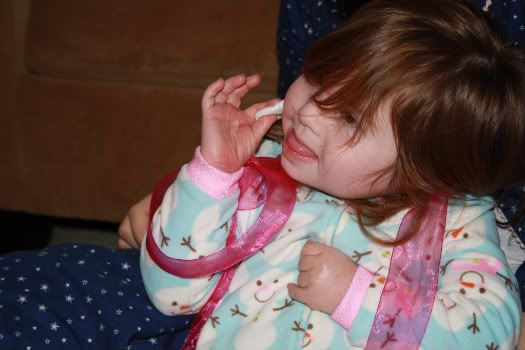 Checking herself out in the mirror ...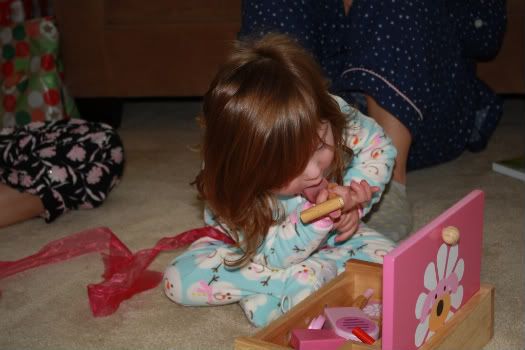 Yep,looking beautiful as ever ...