bril·liant (brlynt)
adj.
1. Full of light; shining.
2. Relating to or being a hue that has a combination of high lightness and strong saturation.
3. Sharp and clear in tone.
4. Glorious; magnificent
5. Superb; wonderful
6. Marked by unusual and impressive intellectual acuteness
Over the course of the last almost 4 years, we have been asked on occasion,in one way or another but usually in this fashion:"Do we know how high functioning Zoey is or will be?"And recently, I was asked basically the same thing but this time it was in a far more classless and down right ignorant manner.One I am not going to repeat.But that inquiry is the motivation behind this post.For those wondering,why the rant.
Each and every time I have been posed this question, I am taken a back a bit.Because never,in my 24 years of raising children,have I ever been asked that about one of my typical children.Ever.Why is it then,that people take the liberty of asking it of Zoey?As if because she has Down syndrome,it somehow makes it okay.I have often wondered what reaction someone might receive,if they sauntered into the hospital room of parents that had just given birth to their seemingly "perfect" newborn and they uttered,"Hey,are you thinking the kid will head to say Harvard,,Georgetown,Yale or perhaps trade school or ITT Technical might be more up their ally?"Do you see how ridiculous that sounds?
I have decided that from now on,when I am asked that,I will say,"I don't know.What is the scale you are comparing her "functionality"to? What exactly is your definition of "high functioning?"Will be interesting to see what answer,if any, I receive after the wide eyed,mouth hanging equally wide open,look disappears from the taken aback persons,face.
Let's be honest here for a moment,shall we.In the case of my child,she has Down syndrome,had Infantile Spasms and had a major stroke.One look at her MRI and you would be surprised she does what does.Just ask my husband.He saw the MRI up close and personal and my glass always 1/2 full husband,wondered silently if she would ever do anything.Period.
There are some inherent realities to the above mentioned 3 things.I am not fooling myself.About any of them.But when I look at Zoey,I have never attempted to define her life by a measure of IQ.I have never measured her worth or her future, on her intellect or what she will or will not accomplish,based on or from an academic or cognitive standpoint.I have never measured any of my children and their worth,on those things.Instead,I look at Zoey and all I see is the the most radiant smile and a tiny body just bursting with love for those around her.Her kisses,hugs,waves and giggles tell me all I need to know.That is why I have tried, as of late, to not run through the gamut of Zoey and all her medical hurdles,if she is not with me.Because the Down syndrome,stroke,doesn't walk,doesn't talk, doesn't eat,illicits a preconceived notion of Zoey to others,without meeting her.They most likely picture her and define her by diagnosis' without meeting her in the flesh.And that is not fair to her.
There are very few things that I am 100% certain of but one thing,hands down,I can guarantee,is that if anyone were to spend a day,heck even an hour with Zoey,they would walk away,being very sure of something and it is this:This child of mine is brilliant.Absolutely,without a shadow of a doubt, brilliant.
I love my new kitchen.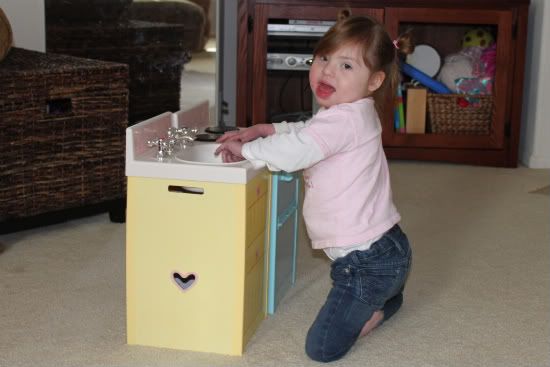 Look,I can even put stuff in the oven.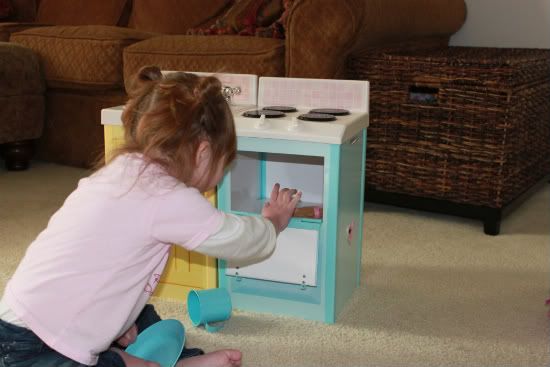 That was yummy.Need to wipe my mouth with my napkin.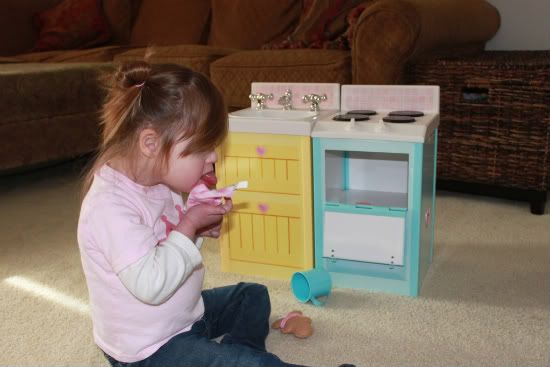 Now to finish up by cleaning the dishes.
Love and kisses to my best little friend Camille for my kitchen.I love it!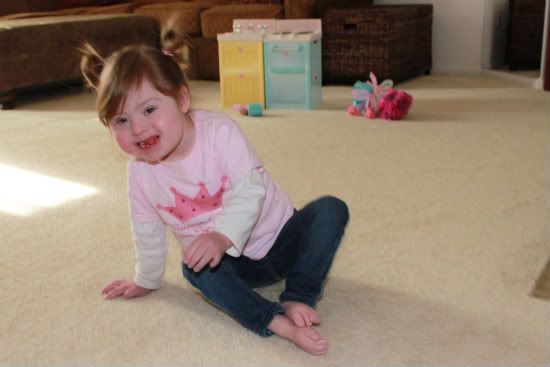 My brilliant child in action.