We have 4 of the 6 children with birthdays all within a month of each other ... as of Monday,3 down,one to go.Jake hit the double digit milestone this past week.Hard to believe.Our first boy.The oldest of the second set,as we refer to the spacing of our kids.Always fun to watch people check us out when we are all out and about together.You can see it in their faces,trying to figure out the dynamics,is it hers,his and theirs?Some ask.Other times I offer.. same crazy husband that has stuck with me for 24 years.An explanation always ensues:3 girls.2 years apart.My tubes tied after the third.A regret.A tubal reversal and viola ... 3 more gifts.The youngest of which,the amazing Miss Z, we say was what we had been waiting for all along.
Jake,our gentle,sometimes serious,always sweet,fiercely loving and smart beyond smart,beautiful boy.Incredible child,whom I feel blessed to have been entrusted with.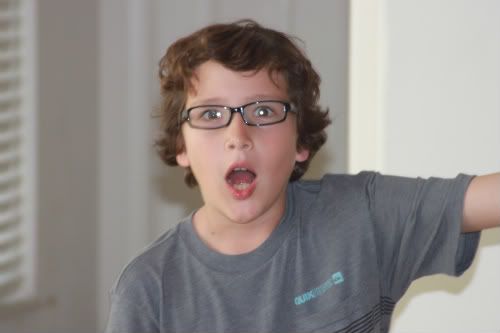 Hates having his picture taken but,if you know me,you'll know where he gets this from.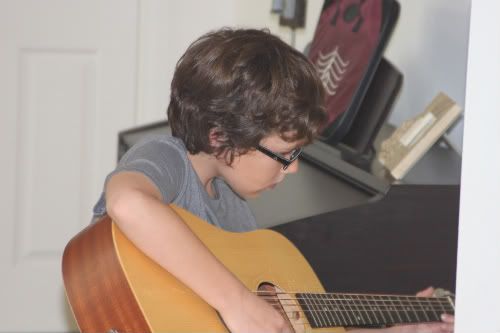 Loves his guitar.Has learned "Smoke on the Water" and "Wanted Dead or Alive" this week.Literally had a guitar in his hands since he was a tiny toddler.Will be so cool to revisit those early videos one day.
Yummy cake courtesy big sister Jessica
This was the scene Jess and I came upon earlier this week.Joe needed to do his reading homework and unbeknownst to us,he went and got his book and wandered out to Zoey to multitask.Stood there for at least 10 minutes,both content as could be ... is that not the most precious sight ever?
And finally,if you're still with me,Zoey's new word.Entirely impossible to capture her on video lately.She is way too interested in watching the finished product and rarely cooperates for the camera,still photos and otherwise.But,the other day,I had her "otherwise occupied" and she was distracted long enough to get a minute or so on tape.This word popped up in the last week or so.She doesn't always use her new word in the right context,infact she seldom does, but it is so darn cute and clear as a bell!And,although Zoey has a wide range of signs and now a word or two in her vocabulary,she still is most fond of her loud and get your attention,grunting,as witnessed at the end of the video!