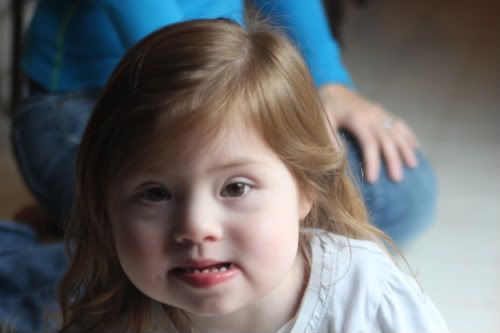 Well it's not like it came out of left field and all.For the last 6 months there have been plenty of red flags.But,even with that said,I am throwing a tad bit of a pity party today.
Cried at Joe's Basketball game this morning.Not just like my eyes misted a bit.Nope,real big,run down your cheeks,tears.In a gymnasium full of people.It wasn't like we didn't have plenty of eyes on us to begin with.The whole bunch of us.We are quite the crew and hard to miss when we all enter a room.You can see people glance over the line of us.Mom,dad,ALL the kids.Wide age range.Tiny Charlotte,"Now who does that one belong to?",I can almost hear them saying.Significant others,one of which is 6'7" and then there is Miss Zoey ... probably most see me and connect the "advanced maternal age" thing and it all comes together.Anyway...
The gym was crazy.Loud and crazy and Zoey freaked.Like signed "potty" 10 times in a row cuz it's her escape clause out of anywhere.Signed "loud" frantically and proceeded to lose it till someone stepped out with her.That is when I lost it.I know,I know,most are going to say "alot of "our" kids have sensory issues.I get that BUT "alot of "our" kids" don't.Was kinda hoping that we could missed this little detour but like I said,those red flags have been waving and now I suppose we just deal.What option do we have?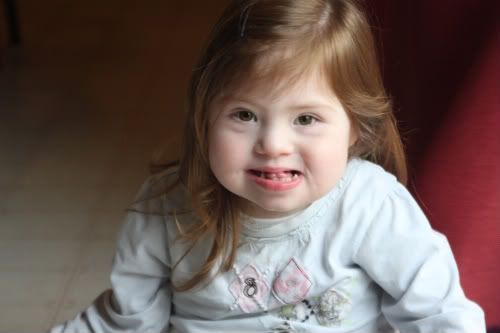 The bummer is,Zoey really likes people and activities and she adores church and the store and things along those lines,however,when we get to restaurants and loud venues,outdoors or indoors,even her birthday party on home turf,game over.The look on her face says it all.We lose her smile.Her disposition totally changes and for me it brings me back,in this small way,to seizure days.When I looked in her eyes and it wasn't her.That is kinda how it goes down.And quite frankly,I hate it.A part of me does spew out,enough already.Zoey has her plate plenty full,in my opinion and I am certain people get tired of me saying:Down syndrome,major heart defect,stroke and resulting CP diagnosis,seizure disorder and leukemia.Sensory issues should be minor stuff but ticks me off just a bit.Honestly does.Well,that is my pity party for now.Oh, all except the new teeth grinding she is doing lately ... and I know,I know"alot of "our" kids do that."Doesn't make me feel better though.Really doesn't.Do we have to add crap teeth to the equation.Well,she is missing one in front anyway,so what's the big deal.Geez.
Okay,here's where happy,optimistic Heather takes over.Charlotte and her mommy are here for a few months while Danny finishes school,but he will be up every weekend.Pure Joy for us but Danny is not feeling the joy part, as he asked,"Will Charlotte still remember me when I am gone 5 days of the week?"Poor guy.You can see the sadness in his eyes when he talks about leaving his girls.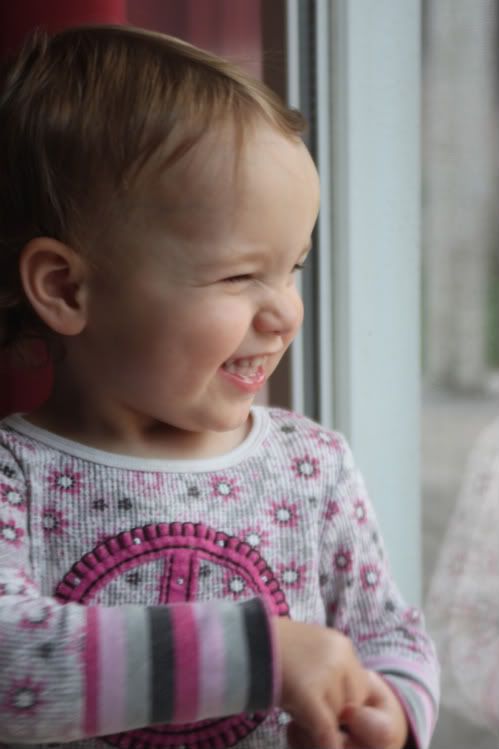 Watching Charlotte run around and play and climb and explore,is so much fun.We do have to baby proof cabinets and outlets,which has been totally foreign to us with Zoey Grace but I have the plugs in the outlets already because. a little someone and a set of keys,is not a good combo.And,the magic that goes on,between Zoey and Charlotte,is enough to make any girl forget her woes.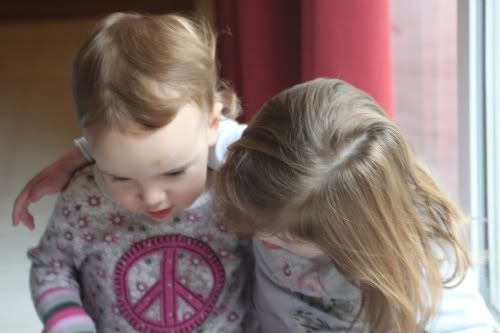 Hey,thanks for hanging around for the pity party.Been awhile since I threw one.Felt sorta cleansing.