* So you know how I said we were not actually down and out from some nasty virus that had infiltrated our home?Well I lied.Big time.Seriously,this is the sickest I have been in,well,I can't actually tell you how long because it has been just that LONG.And yes, just that bad.Jess and I hit the hardest and the littles,thank goodness,not too bad.We put Zoey on an antibiotic early in the game and what might have begun with a virus,was obviously much more because once we started her on amoxicillin,she made a nice turn around.Today was her first day back at school in over a week.With some antibiotics on board for Jess and I,I do believe we will be back in the game of life before long.Not that life stopped in the first place.There was no rest for the weary.No naps,no early to bed and no magic fairies that came and took care of the children,the cleaning and the laundry.I wish.Today when I stepped out and turned my face to the sun,I paused for a moment and literally thanked God for feeling better.
* Charlotte is settling in and seems to be adjusting to her new surroundings with ease.She seems to enjoy the constant activity level around here and we sure do enjoy watching her darling little antics daily.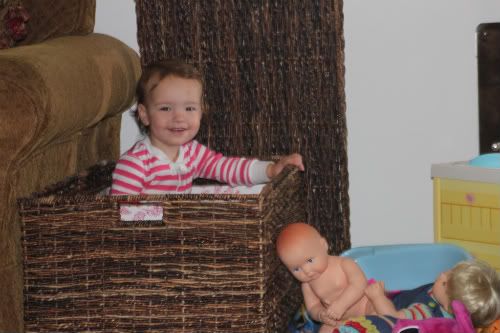 We have nicknamed her "The Hurricane",as the child can blow through a room like no other.Not complaining though,it is just so much fun watching a toddler doing her thing!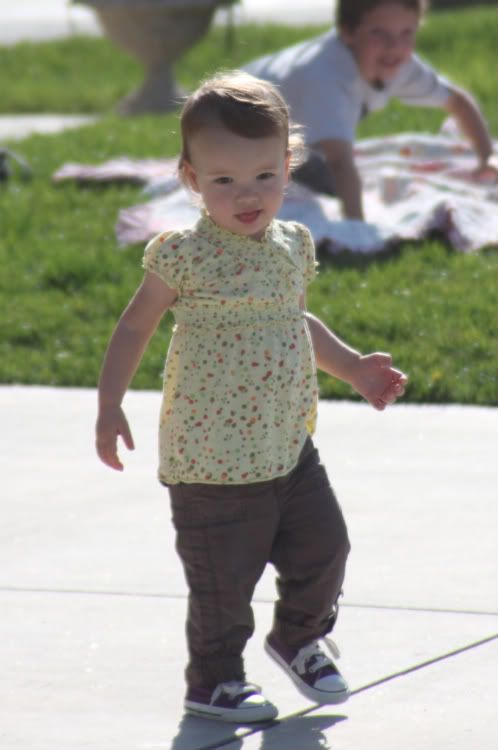 I just love this picture.It is so Charlotte ... a little shy and coy with a bit of trouble mixed in.
* Jake had a little mini rock concert on Saturday night.Right in his element that child of mine.The sometimes serious,artistic type.Strumming along with his instructor to "Living on a Prayer".Will be so interesting to see him in 10 years and where music is in his life.I will have to pull out some old footage and show you him at 2 and 3,guitar in hand.Really strange how life comes full circle like that sometimes.