So, Zoey is weathering this bout of pneumonia like a rockstar. She has coughed more today then she has in the days previous but I am sure that is because all that gunk is being loosened up, thanks to the antibiotic. No more fevers and for that I am thankful. Her little disposition is much better and she has been more active and engaging than we have seen her in a few days. Still a bit pale and she is certainly not her spunky, attitude filled self but I see glimpses of that resurfacing and for that I am grateful as well. Speaking of grateful. I look back at her early days. Being born straight into congestive heart failure and the months and months of medication to balance her heart and lung function and seriously, that her lungs are as strong and resilient as they are, is pretty amazing. So many of our little DS buddies who had heart issues, need oxygen support,especially when they have something respiratory going on. Zoey, kissed her oxygen cannula goodbye a week after heart surgery and never looked back. Pretty incredible.
Quickly changing topics,cuz Lord knows I am so over the sickness stuff.
I have often mentioned that Zoey is so not a toy kid. I actually never buy them. Occasionally a musical instrument thingy but usually, I just pass by those toy aisles all together. Why bother. Even the infant ones, she just can't do and quite frankly could care less about. Her fine motor skills are so behind and because of her vision loss, her hand eye coordination is not super either. Throw in not being able to purposely use her left hand/arm and yep,toys are useless and a waste of money.Hanging around the house though, is this pig: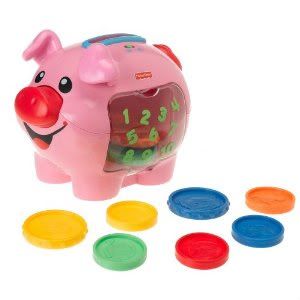 Every once in awhile I will pull it out, put it in the middle of the floor and see what she does with it.Usually, she chucks the coins all over the house. Well,to my great surprise, the other day, Miss Zoey decided to roll her little self over to that sucker and proceed to place some coins into the top. You should have seen how proud she was of herself. Actually,see for yourself now. So darling this child of mine and I know, to some, a four year old putting a few coins into a slot, is no big deal, but in this house, big stuff I tell you and reason for celebration. Not exactly a life skill, as defined on those ridiculous,oh did I just say ridiculous, IEP goals, but hey, it's something,isn't it?