Sometimes that is exactly how I feel. Just hanging out in some vast body of water, treading away. But hey, at least at this point, my head is above the surface. Can't promise that it will remain that way but for now, I'll take it. So, what has been going on around here? Loaded question on any given day. We are one complicated, busy bunch. Happy but definitely crazy busy and sometimes overworked and sometimes over whelmed and sometimes under appreciated but ... happy. Lets take it from the top,shall we:
Mark,working like a dog.As I type,at 12:18 AM,not home.He seldom if ever,has a moment to claim as his own and is constantly making sure we all have what we need. I know he is burning it at both ends and I know for sure that I seldom acknowledge that. I know that the two of us fall on the bottom of the totem pole but for now,just the way it goes. Maybe more than for now but in our minds, the sacrifices we have made,when we look at our children, have been more than worth it. But, as we approach our 24th wedding anniversary in a few weeks here, I do know we need to etch out a date night here or there. We are so blessed to have such a dedicated husband/ father and I venture to say Mark most definitely falls under the under appreciated category.
As for me: Finally feeling better after 2 months of some nasty respiratory stuff. Couple that with my minor Lupus flare ups and my
Meinere's
episodes and well, I have been totally run down. So what does one do when they are feeling run down? Train for a marathon. Or two. Yep, Jess and I will be running the Nike Woman's Marathon in October that benefits the Leukemia/Lymphoma Society and as a chaser, her and I, along with Caitlin will join
Team Gwendolyn
for the Santa Barbara Marathon and raise funds for her foundation that pledges 100 % towards finding a cure for
SMA
. I think I most definitely fall in the just plain crazy category. But that is hardly new info.
Next up, Jess and Matt. We are so proud of these two. They have worked tirelessly over the last 2 years after graduating from Pepperdine and their hard work has payed off. Matt just passed his written portion of his
National Registry
test for his paramedic license, as well as passing his day long skills assessment for the Registry too. And, as graduation from Paramedic school looms on the horizon, we can announce, much to his humble dismay, that he is class valedictorian. Awesome, huh? And Jess,just completed her first semester of nursing school and in her own words "It was the hardest thing she has ever done." You wouldn't have been the wiser to that one around here, because like everything else Jess does, she made it look easy. Matt is already back at McCormick Ambulance Company, smack dab in the scary area of Inglewood/Compton and he will begin applying to fire departments as soon as he has his lisence in hand. Jess will work at the VA hospital all summer doing Parkinson's research and, in other news, they soon will be leaving us :( ... not gonna talk about that one,I might just cry.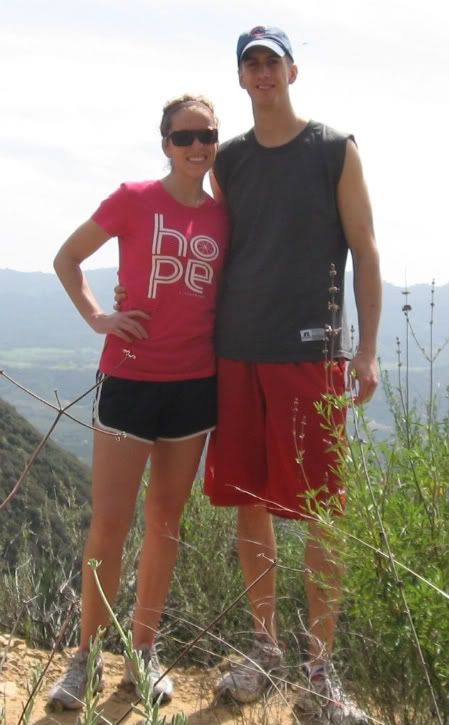 Now to our precious family of 3: Danny is finding that this last quarter has been quite the killer. Not that he hasn't balanced it beautifully but his degree, in structural engineering, is no walk in the park. Especially living up to his high expectations of himself. But, in true Danny form, he is finding his way through school, work and his commute up on Friday's to see his girls. Speaking of which, Caitlin and Charlotte are doing an amazing job themselves. Caitlin missing having her husband for the company and the help and Charlotte, just plain missing her daddy. But they are nearing the end. Danny will graduate the second week of June, start his paid internship in Burbank the following Monday and come fall, be not only working at the engineering firm but beginning his masters program at USC. They too will be finding a place of their own, but not going to talk about that one, cuz I just might cry some more.
Taylor is back into the swing of living in the States but missing Europe for sure. She appreciates her year there all the more since being home. Feeling so grateful that she had that once in a lifetime experience. She fills her time working 3-4 days a week babysitting for a few families, making really good money and loving all the cute little kiddos. She has also begun "hanging out" with THE most incredible young woman. M.E. happens to sport an extra chromosome and she is, amazing. Really and truly. I think everyone who has a small child with Down syndrome or has just received a prenatal diagnosis, should sit with M.E. And although she is superstar quality, like no other that I have ever met, I have to believe, meeting her would help to alleviate some of the misconceptions and fears that go along with having a child with Down syndrome. I really need to do just a post about M.E because she is just that amazing.
As for Jake and Joe: They continue to go with the flow. It is such a joy to watch them grow and go about their little lives with such energy and enthusiasm. Although the last 4 years has found them having to make compromises and sacrifices of their own, I have no doubt that later, as they become husbands and fathers, the pay off will be seen with great clarity. They both are anxiously awaiting the end of the school year. Counting off the days in fact. They just love the neighborhood we are in and spend hours a day perusing the cul-de-sac with their friends. Jake is still playing the guitar and just this past weekend, Mark bought him and electric one. He is excited beyond belief and it is very cool listening to him jam away upstairs. And when it isn't cool, the amp has a handy dandy head phone jack so he can "enjoy " the sound himself. Joe is also still playing the piano and is thrilled that he will be playing the theme to "Star Wars" as well as "Hedwig's Theme" from Harry potter for his upcoming recital. He is so proud of himself. When not busy outdoors or playing his piano, he is busy surfing ESPN channels. The child is a sports fan like no other. Will watch just about anything. The other day, caught him watching cycling. He is a truly a sports fanatic. These boys make me proud daily and remind me of just why I wanted to start a second set. Just look what we would be have been missing.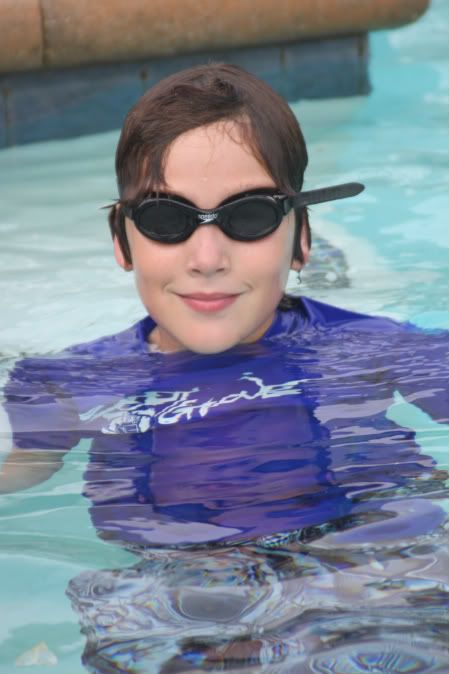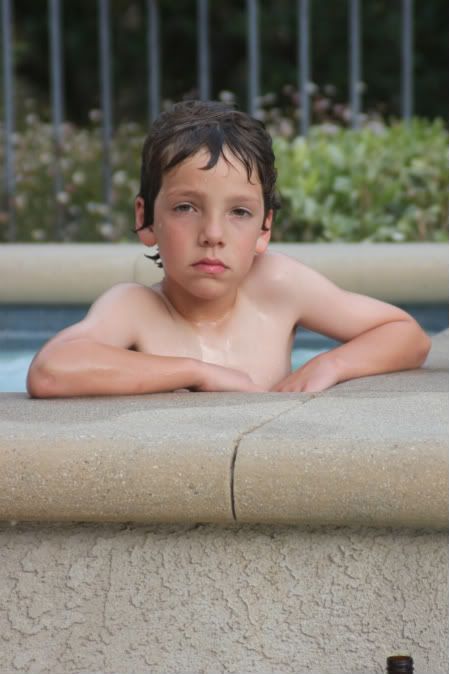 And Zoey Grace: Well,she is status quo. Doing her thing. Which is mainly watching this insane household do their thing. Sometimes I believe it is her best therapy. Speaking of which, PT is plugging away. Still believing that one day she will find her footing.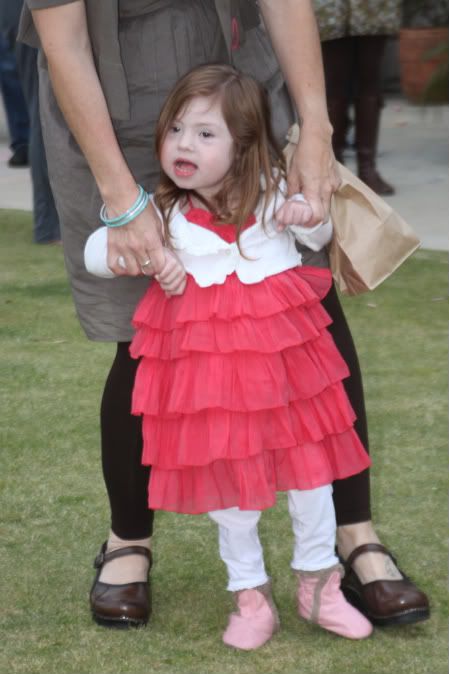 We have to believe that but in the mean time we await for her chair. Which is a story in and of itself that involves incompetence at its best. I better get use to it because I know that throughout Zoey's life we will often be the only ones that care about stuff like wheelchairs. Just the cold, hard reality. Suffice it to say, that for 2 months now, her file has sat, on the desk of the powers that be, the mobility company, and has not moved. Not one bit. Lost. Forgotten. Whatever you want to call it but this momma was SO not happy today. Lord knows when we will see that sucker. Probably not until the end of summer because next stop, our insurance company and we all know just how smoothly and efficiently that will go. School is wrapping up for her and she will have another year in the fantastic preschool where she is and then, I will have to send her to the wolves. Kinda kidding on that. But seriously, I passed by the classrooms where she will go after next year and wow, not feeling it. Unfortunately, from what I am being told, she will not be able to go to the regular, whatever that is, special education class, due to her extensive needs so she instead will go to the county program and honestly, I am just not sure that is what is best for her. Oh well, time will tell and until then, we will just keep moving through our days and hope that in the end, we will find the perfect place for her. In closing, I want to show you this little clip that my friend had on her blog today. Made me cry and as I told her, not sure why but it made me want to meet these moms and these kids. Then maybe, the path to choose for Zoey might be illuminated better for me, because tonight, I just am not sure.
Thanks for hanging with me, that is if you did. See, this is what happens when I am a post slacker. You all pay.