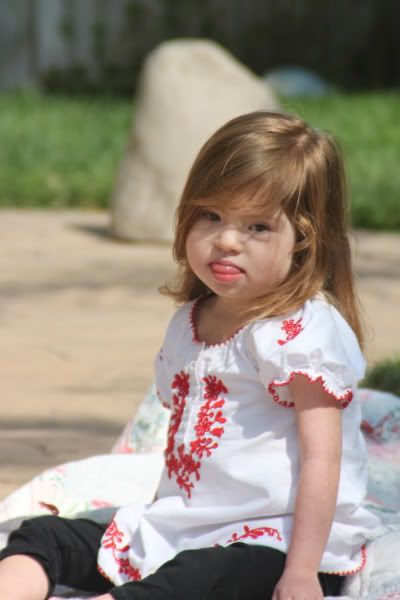 crossroads
plural of cross·roads (Noun)
1. An intersection of two or more roads.
2. A point at which a crucial decision must be made that will have far-reaching consequences: "we stand again at a historic
crossroads
".
Seems like we are at such a place, a crossroads of sorts, with Miss Zoey. Seems like we have been at this juncture before. Many times before in fact, and for various reasons and some of those reasons, life and death choices. We are hardly new to this scenario but I have to tell you, we have grown weary of it. Tiring and taxing but I suspect, we should brace ourselves for these types of decisions, as I am certain, there will be innumerous decisions such as these, in the years to come.
So, it looks like Zoey's Physical Therapist, is having a difficult time writing goals for our girl and if you know anything about services for our children and continuing services for our children, when writing those goals, they, the therapists, need to justify them and our children, they need to make strides towards meeting them. No strides, equals no services. Which equals, no good. Zoey's therapist, has told me that she can no longer justify writing a goal for standing and walking for Zoey. Can you hear my heart breaking as I type that? Just ever so slightly breaking. Because it is. And when she told me that and told me that she didn't think Zoey was "cognitively" ready to walk, I cried and then I was pissed that I cried. But hearing that was tough. On my heart. Super tough on my usually super tough heart.
Zoey's therapist doesn't think she will walk. I can see it in her eyes. I can hear it in her voice when she dances around my questions. We stand at a crossroads and our decision, as her parents, will potentially have far reaching consequences. As it stands now, when we talk about her wheelchair, and I mention to her therapist that for a child who is a
hemiplegic
, to propel that thing forward, only to go in circles, is frustrating and I get back from said therapist, "well, it is
her
circle", well I really want to blurt out a litany of swear words. Which I did and do, when I repeat that story. I'll keep it G here for now. But seriously, how many people go about this world, going in circles? I guess I am suppose to be grateful that my child, as severely delayed in all areas that she is, at least goes in circles, right? Nope. Not going to be grateful. So it looks as if, to keep these services, we need to write the goal for Zoey to use a powerchair. Which mind you we have worked with. Which I must tell you, was not pretty and in many ways a bit sad for me. Watching her struggle. Again. Also, my stubborn and quite frankly lazy little Down syndrome girl, is definitely going to dig that powerchair if she does gets the hang of it. It won't require her to work and thus, in my eyes, I have just sealed the deal, to have my daughter, in a chair, for the rest of her life.
Studies say that a child with Cerebral Palsy, who is not walking by 5, stands very little chance of ever walking. Zoey is 4 1/2. And you should see my teeny-tiny, 23 pound child's, itty-bitty, spindly legs. How do we strengthen them? How will those legs ever support her body? She has zero balance and only protective reflexes on her right side. I get that my child had a major stroke. A
Middle Cerebral Artery infarct
that blew out half of the right hemisphere of her tiny brain. One look at her brain scan and I know what my child it up against. I have no idea in this world how walking will be mastered. I don't know why it is, but accepting that she will never walk is so difficult for me right now. I guess it is because I have surrendered to so much over the last almost 5 years with her and this, this is just another one. Surrendering seems a bit like giving up sometimes.
Caitlin and I were talking this afternoon after I read something about a child with Down syndrome who is a year younger than Zoey. An accomplishment that I rejoiced in for them but felt a smack of reality to me. Something that made me realize the gap is widening. The safe place of having a baby with multiple delays, a toddler, with multiple delays, is becoming a more and more difficult place to hide. The gap is widening and now, now I just need to find a way to not get swallowed alive by it.