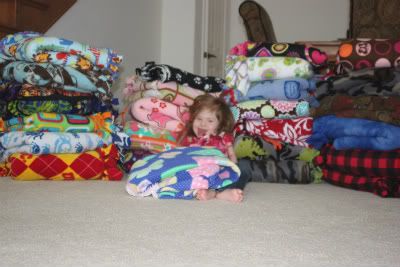 First, can I just thank all of you amazing people out there that weighed in with your advice and wisdom and sometimes hilarious responses, to my last post. I could not believe each time I checked in, that there was yet
another
comment. Each were so thoughtful and inspiring, and beautiful and each was a reminder of why I blog and why I have come to love so many of you out there. Many, that I most likely will never meet in person but have connected on levels. that only people who blog, can understand. So thank you from the bottom of my humble heart.
So, yesterday I made the 8th delivery of blankets to 4E at
Children's Hospital of Los Angeles
. When I began
Zoey's Heart Blanket Project
2 years ago, I hoped, to make 4 deliveries a year. I didn't know if I could or would accomplish it, and here we are, 2 years later and I did it. But I really can't say
I
. I have had incredible friends that have pitched in to help make or buy material. When I asked people to forgo buying Zoey birthday gifts and buy gift cards for fabric instead, people not only responded, but they responded with such unbelievable generosity. I have had many people within the blog community that have sent blankets and gift cards and attached themselves to yet another cause near and dear to me. And this cause is so near and dear to me. But it didn't exactly begin that way.
Don't get me wrong, from the very beginning, I enjoyed making the blankets. I loved delivering them and most of the time I never saw who received them, but that was not an important aspect of my giving. I didn't need to see the faces of the children fighting the fight behind those doors. I had seen it up close and personal for 8 months. I know what goes on in those rooms and I know the strength and courage that is needed to do what needs to get done. At one point I thought and probably voiced, "
It's only blankets."
But that all changed when we lost
Christopher
. Almost exactly a year and a half ago, Christopher left this world and not an hour after he lost his battle, I received a text form his mom, my beautiful friend Marissa, and she said that
Christopher
died wrapped in the blanket I made him and that blanket would forever remain precious to her. From that day on, my mindset changed. I make those blankets and I give them and I will never know what purpose they are to serve. It is not for me to know. And of course my heart wants to believe that each blanket will come to be a cherished item, for years to come, for some of these children, however, I now know, their purpose may perhaps be one that reaches far beyond the fabric they are made from.
I love that 4th floor and I hate that 4th floor. I know I am meant to
do
more on and for that floor but I have yet to find my purpose and my exact calling there. For now, it is the blankets. And yesterday, I had the honor and privilege of meeting 27 superheroes, face to face. I am blessed and forever better because of it. One day I will understand what more I am meant to do because of this journey I have traveled with my girl, but for today, this, this is enough.