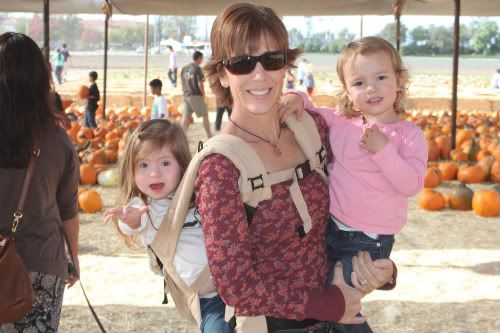 I love Halloween. I really do. And honestly, I have no idea why either. First of all, I am a super scaredy-cat. Ask anyone. I have been known to sleep with various tools/ kitchen items, under my pillow or bed, when Mark has been gone. Been doing that since I was a pre-teen. I absolutely so do not watch horror movies, and as much as I love a good action packed thriller, I definitely do not like a slasher film. But October comes and I am beyond excited. I swear, my Halloween decorations are beginning to rival my Christmas ones. I look forward to making chili and goodies that night and I
love
handing out candy. I love seeing all the kids dressed up and I even love the big kids. The teenagers. As long as they make an effort at a costume and are polite, it's all good. I remember all too well that year that I crossed the threshold and became "too old" to trick or treat and I remember vividly how very bummed I was.
So, I am thinking that you get the point about me and Halloween. And, I am also thinking, that you would imagine that seeing
Zoey began chemo
3 years ago on the 31st, my love affair with this holiday would abate, but it hasn't. Maybe it's because the place where we stand today, is filled with such beauty and grace. Perhaps if our path, or rather Zoey's path, would have taken a different direction, I would venture to guess I would feel completely different about this day, without a doubt.
Three years ago
, at the tender age of 19 months, my little love began her fight against leukemia. I remember waiting for that liquid gold to arrive in her room. I was exhausted and terrified and absolutely felt like I was living someone else's life. I sat in that crowded, sterile hospital room, holding Zoey, trying to take deep breathes and quite frankly, in the end, it all was so anti-climactic. The bottle with the skull and crossbones, yep, the bottle really does have that on it, well, it was brought in and hung and the IV drip began and so began Zoey's 8 month fight. Those early days were filled with such uncertainty and fear. And although, as time has passed, the level of fear and uncertainty has diminished, but I have to tell you, as I write this, I know, without a shadow of a doubt that the fear and uncertainty of the future, will never, ever leave me. Not ever.
I remember trying so desperately in those first few days, to be present for all the rest of my children. Emotionally more than anything else, since my days were spent almost entirely at the hospital. I promised myself I would pause and answer the phone for the big girls when ever they called and I promised that I would try to not allow them to sense the fear in my voice when I did talk to them. So it was, not 2 weeks into Zoey's treatment, that my phone rang. I remember that Zoey's room was unusually packed. She had broken out in this weird sunburn rash. Her g-tube had a raging infection. People were standing over her crib trying to figure out what course of action to take. Mark happened to be there and well, it was busy. But I answered the phone and it was Caitlin. She asked if I had a minute, which I really didn't, but I said yes. After some catching up on Zoey, she finally said she had something to tell me and I said go ahead and that is when she told me she was having a baby. I remember saying" No,no, no, no!" And she will tell today, that she thought initially my reaction was of course directed to her but I quickly followed with, "So is this how God is going to do it? Am I going to lose a child and be given a grandchild?" That is what I thought in that moment when my older daughter needed me most. I could only fixate on the life and possibly the death, of my youngest daughter.
I think of that moment and those words often. Especially when I watch my little wonder with her sweet little niece. I think of that moment as I watch Charlotte ever so gently move Zoey's hair out of her face. Or as I listen to Charlotte say, "Down syndrome. Fragile. Help", when asked about Zoey. And I am reminded, in an instant, how very blessed we are to be standing in this amazing moment. Look at how far we all have come in the last 3 years. I look at the photo above and cannot believe, on this crazy little holiday, that I have such a blast on, that I am able to spent it with these two precious girls that I love so very much. How is it, that I came to be so absolutely lucky in this life?