And life does, go on. Even amidst times when it feels like all should stop. Stop still and silently in it's tracks. And take notice of the happenings around it.
My sweet Klein is fighting valiantly today. His parents making decisions no parent should have to. Still, they hold tight to hope and faith. Why? Because they know of no other way.
This afternoon I was torn between paying attention to the seemingly mundane and the insignificant and ignoring that which seemed trivial in nature. And then, in one moment, I thought of Klein. I thought about his love of technology. His love of his many game systems and his guitar hero and his electric guitar and his laptop and his iPad. That child loves, loves, loves the gadgets and he loves his iPad. So there it was. My answer. Post about the giveaway. The new Mission.
Mission 2
. Klein would think it was the coolest thing that we were
giving away
not one, but two iPads for children with special needs. Klein happens to also have a little baby cousin, Fatima, that has Down syndrome. Oh how he would think it was the neatest thing ever, that children like Fatima, could get their precious and deserving hands on this piece of technology.
Klein, Christmas 2010
So I will post about it. Slightly reluctantly, if you must know. But life goes on. Even if we think it should not.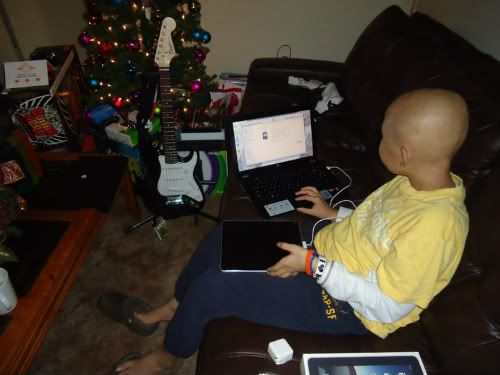 Head over to
Mission iPossible
and hear about this latest giveaway. And it is just that. A giveaway. No funds needed to be raised. No strings attached. Only a few guidelines.
2 iPads
that our family was blessed and lucky enough to be given. We thought that they should be passed on and what better time than at this Holiday season to do that. You will find all the details over at
Mission iPossible
. All the particulars. Things will happen quickly, so if you are so inclined , enter and spread the word.
In the mean time, if you pray. Pray. Send them Klein's way. Send them to his parents. For peace and wisdom and strength for the journey.