"Everything is possible; the impossible just takes a little longer"~James Douglas Percy"
The 1 minute and 40 plus seconds of viewing, is totally worth it. Promise.
The journey to this moment, has been long and arduous and daunting. To say the least. Mostly for this warrior child of ours.
If you asked me nearly 5 years ago, if we would see this day, if
SHE
would see this day, I would most likely have said ... probably not. That is an entirely honest answer.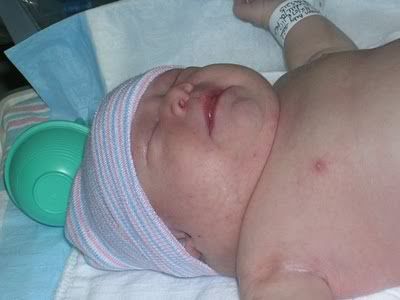 If you asked me that same question, 4 years ago, when an insidious pairing of words, Infantile Spams, were uttered to us, I would have said the very same thing.
Zoey mostly looked like this ... 24/7, while on one of the nasty drugs that we willed to work, but sadly, did not.
She seldom slept during those days, like, seldom slept for 8
LONG
weeks and in a desperate attempt to give her body rest, we shelled out 400 dollars for a baby hammock, that occasionally yielded tiny respites of sleep. For us all.
And, if you asked me that same question, again, 3 years ago, when we entered the world of pediatric cancer, I most likely, would have echoed a similar reply.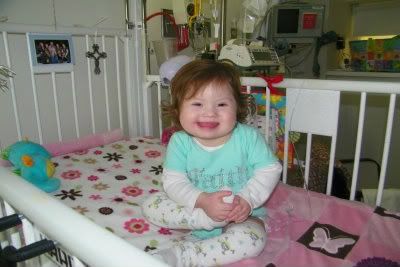 I literally have dozens of pictures like this. Of Zoey sitting in her hospital crib, day after day, kicking cancers ass, with a smile.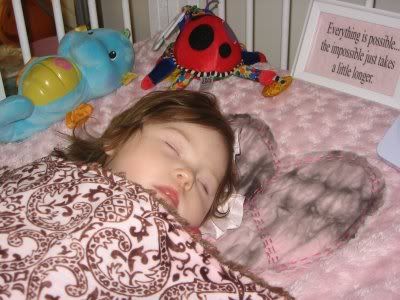 I can look at this picture and know, in an instant, that she was in a benedryl induced sleep to ward off the nauseousness, that chemo relentlessly brought. Notice the framed quote. It stayed there, above her head, 6 rounds of chemo, for 8 long months.
It is not about being hopeless. It truly is not. It is more about a mode of self protection that you have been operating under, for so very long, in order to dwell in an emotional safe haven. Afraid to dream. Afraid to believe. When all along, that wee little one, she knew. Her courageous fight, rather than a much easier route of flight, told us so. What one day seemed far beyond possible, now looms out there, just within reach. Not clouded in a veil of darkness and uncertainty but rather radiant in a tomorrow full of promise.
Her kindergarten transition IEP, on the cusp of her 5th birthday, was quick and painless and a lesson once more, to me, her mother, to never under estimate, never low ball, this wonder girl of mine. To circle back to hope. Always. The 8 or so, teachers/aides, therapists, in attendance, were awestruck by the progress she has made in the last 2 years. More on the details later. For now, I just need to sit with it all for a moment.
My girl is going to be a kindergartner.