I used this very same verse for Zoey's 3rd birthday last year.Hard to find one better.So why try.Encapsulates all that needs to ever be said about our beautiful and perfect girl.
Wednesday the little love turns 4.How can that be?Seems like she has been with us like, forever and in other ways,much like our other children,seems like only yesterday that she came blazing into our lives.
I have spent a great deal of time reliving that week prior to her birth.That week holds the single one regret I have ever had over the course of last 4 years.A single defining moment,I have often wished I could rewrite.
Zoey was born on a Friday.11:12 am to be exact.A crazy morning,culminating what had been a crazy,whirlwind week.Monday I had gone to what was to be most likely, my last ultrasound before her birth.I had been seeing a pediatric cardiologist since the day her heart defect was detected,which so happens to be the day of the above ultrasound photo.We monitored her well being for nearly 20 weeks.Kept a eye on that,in true Zoey fashion,"larger than most",
AV Canal Defect
.We looked at her tiny heart and at all those oh so important arteries that supplied blood to her precious body.We studied.We looked,we relooked and I grew to know each little facet, of each little part of that little heart and beautiful perfect head.Mondays appointment brought all good news.Another week.Another sigh of relief.
Tuesday was my weekly non-stress test at my obstetricians.That turned into a marathon 2 hour visit, as the already stubborn child of mine, wasn't yielding the movements my OB liked.Finally after orange juice and cold water till I was bursting at the seams, he got a few reads he was pleased with and sent us packing.
Wednesday was a funky day.Zoey was doing these really weird movements.Almost nonstop.All day long.I almost called Mark at many points during the day but she managed to settle and I brushed it off as nothing.Because what we usually hear is no movement equates to not good but lots of movement was,well,we never actually hear anything about over activity,do we?.
Thursday came and I felt like garbage all day.And lo and behold,by evening time,I had Mark head home and told him we needed to head into the hospital because this baby was not going to wait until the next weeks scheduled c-section..I was indeed in labor.Very early though.We tried to hold her off but by morning,she needed to be delivered.I was oddly calm.Peaceful as well as excited.Glad that God,in hindsight, had covered me in His grace to see me through the next few hours.And He carried me alright.And my baby girl as well.Who I might add, arrived looking not too good.Super edemic,her skin,oddly colored and blotchy and well,she just didn't look quite right.
And she wasn't alright.Not one bit.5 hours after birth she was life flighted to Children's Hospital.With a white count of 153,000 ... a normal count... 5,000-11,000.Initial,suspected diagnosis.... leukemia.And me,I sat on the edge of my bed.By myself and listened as the helicopter took off.And I wept.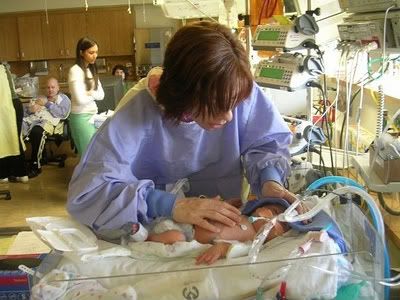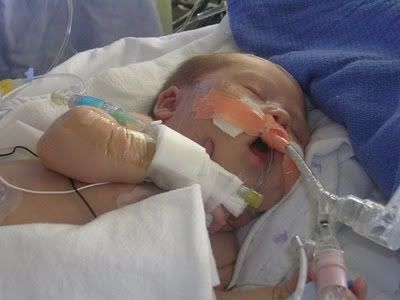 I did that alot over the course of the next 5 days.As one diagnosis after another came streaming in.The hardest to process was the stroke.A stroke.How can this be?But she is a newborn baby.A fragile,tiny thing.How does this happen?How DID this happen?I would learn,through the miracle of modern medical advancement,that they had pinpointed that she had suffered a
major middle cerebral artery incident
,the clot still present in her carotid artery, and that it had occurred just days before birth.Cell death had told them so and a PERFECT ultrasound of her perfect brain not 4 days before,had confirmed it.And here is where the regret comes in ...
Looking back it was easy to now see that her lazy responses during that final non-stress test and her squiggly wiggly ways on that Wednesday,was her way of letting us know she was in trouble.She was trying,in the only way she knew how,to let us know she needed help.And I failed her.I didn't let my tried and true mother's instincts lead me.And I regret that.And I feel guilty.I wished that I had asked my doctor,who I love and do not blame in the least bit,if we should maybe check her out in the hospital,rather than accept the rather if'y non-stress results.I wish I had called my doctor on that Wednesday,when in my heart,being my 6th child,I knew her odd activity,was nothing I had ever felt before.Like I said,I have regrets. Even and most especially,4 years later,as I watch her struggle from the effects of that stroke.Not to mention the seizures that riddled her little baby body and robbed her of things we might never know about.I often wonder if I could have prevented it had I payed just a little closer attention to the little subtle messages.Hard load to shoulder sometimes.
I have really never shared that regret with anyone.And really,it feels like a failure more than anything else.Like I let down and failed to protect,this innocent baby,who only had me to look out for her.I played the blame game for a long time after Zoey's birth and sometimes,I think it has only been recently,that I have let some of that go.
Probably time isn't it?Because ultimately,I have to circle back the one thing that sustained me in those early hours and continues to sustain me today and that is my faith.Zoey's life was and continues to be,not mine to dictate and direct.Not my plan.Not my doing.Not my rules.Never was.Never will be.Better and easier to relinquish that power and control and today focus instead in the miracle of the moment ... which for the next few days, will be a certain darling, nearly 4 year old.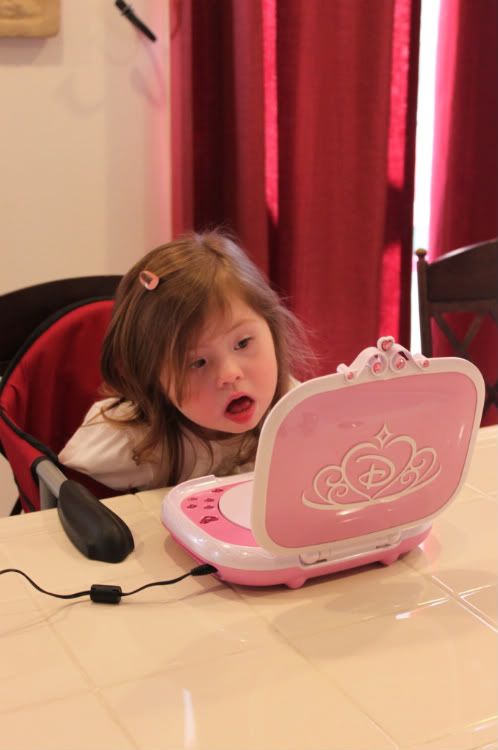 Zoey received this cute little gift in the mail the other day and let me tell you, she loves this thing.It is a princess portable DVD player that arrived on our doorstep, from a new Facebook friend,Maria and her sweet little chromosomally enhanced love, Danika.We were so touched by this generous and might I add,unnecessary present.Totally blown away by the love and generosity of others.People really and truly amaze me sometimes.A big thank you again to our new found friends.We are blessed.