Seems like I just can't get in the groove of things. Here, in this blog space especially. I go to write and I am stuck and rewriting and scrapping things entirely. Now, in light of my friend
Joany
, and all that has happened to her precious family, once again, everything seems so insignificant and trivial. I was reminded, not more than 5 minutes ago, by a far away friend, who's email reached me at the very moment when I needed it most, that what I have to get back to, is my gratitude journaling. Because in moments like these, when I see such suffering, such extreme, unspeakable suffering, it is so absolutely difficult to see the beauty in the simple things. I really need to get back to jotting down those 3 daily, 21 weekly, things I am grateful for, or I might just get swallowed up whole by the rest of the crap. You know, lately I love that word crap. And " sucks" is another good one too. Although my older kids will tell you, that I never did let them use that word when they were young and that I use it, and that I use it often, cracks them up. And, another certain 4 letter word, when adding a 'ing suffix, can roll effortlessly off my tongue as well. In fact, string those three bad boys together and it sums up what I feel about some situations as of late. Shouldn't be too hard to plug in that third word, especially for those who know me well. Anyway, I figure since I am not feeling any one thing in particular, I will hit 3 high points for now.
First, we had
yet another
birthday in the house. Not a hard thing to have, with a family the size of ours. This time, Taylor Morgan is the birthday girl and on Sunday, she hit the 2-0. Ah, twenty, I remember it well. Well, sort of. But what I can remember, for sure, is that I did not have it together the way this girl of mine does. She is pretty amazing all around and once again I pause and try to figure out how that same girl of 20, that would be me, managed to raise such incredible, young women. Perplexing to say the least.Taylor is working tirelessly at
Pepperdine
in her junior year. Managing a full class schedule, as well as her job with
Jump Start
. Which she loves. She is a team leader. In charge of an entire group of her peers that teach at underprivileged preschools in LA. The experience she is garnering there will serve her well as she graduates and continues on to complete her masters in Special Education and then, as mandated by a few of her student loans, will go on to teach again, in underprivileged schools for I think, another 3 -4 years. Super proud of her. I don't think I tell her that enough though. Got to change that.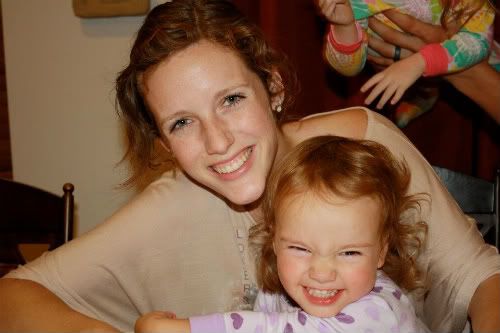 That look of Charlotte's ... classic Charlotte look. Feisty personality. Much like her Mimi's and her mothers!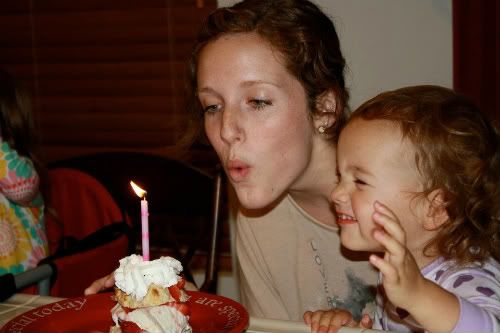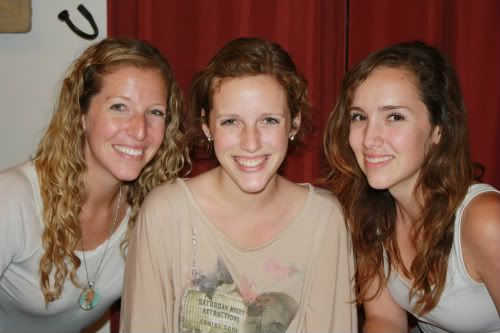 Next up, a really magical day in Santa Monica at the Party at the Pacific Pier, hosted by Make A Wish and the tab, for the entire day, picked up by the generous beyond words, comedian
Kevin James
and his wife. Free rides and boardwalk games and yummy food and desserts. An incredible day, with reminders, every where I turned, of the world of pediatric cancer we were dropped into ,3 years ago this month. Faces of mighty cancer fighting warriors. Reminders everywhere I turned, of the special needs community we were dropped into 4 1/2 years ago. Reminders everywhere I turned, that despite all of the above, there are plenty of opportunities to soak up joy around me. There was one final part of the day. A mouth hanging open, end of the day gesture, by Kevin James and his wife, that I want to share, but can't just now. I will soon though. Promise. How is that for a tease? I will give you a hint: It does have a little something to do with
Mission iPossible
. Speaking of which, please make sure you go check us out over at
Mission iPossible
.
Ken
has been busy finishing up our iPosts and with all 20 iPads in the hands of all the recipients, we are almost done with Mission One. Which, makes it sound like there might be a Mission Two on the horizon, doesn't it? Well, you'll have keep up with us to find out for sure, and to learn what my teaser is about
and finally,
read two special final iPosts.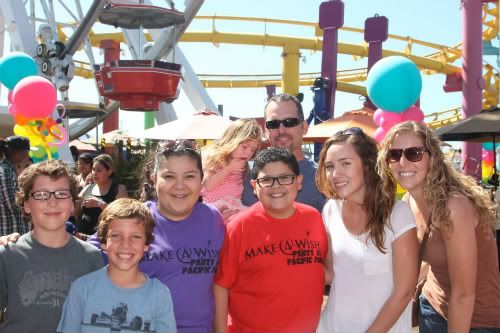 Some of the crew with Manny from "Modern Family" ... that show cracks us up like no other!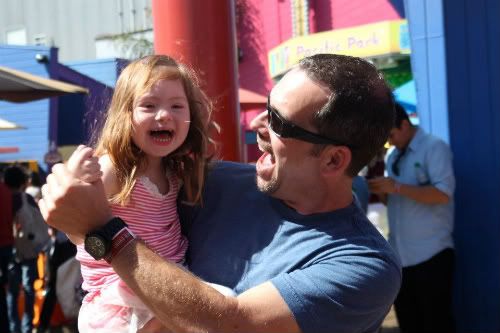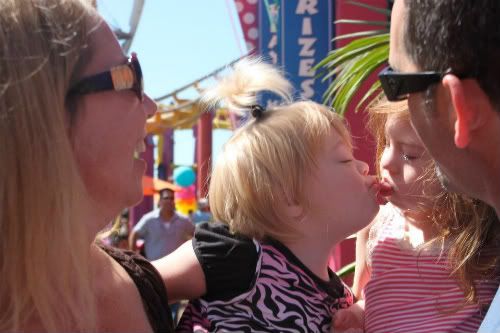 Sweet Ella Grace, another cancer fighter girl, and Zoey Grace kissing or swapping spit. Not quite sure which one.
Well, honestly, I have been back and forth on the computer trying to finish this up and at this hour, almost midnight, I think the 3rd item will have to wait. Besides, the more I think about it, it's a post that is better shared on it's own. So that is all, just a round of apologies to all my blog buddies, many of you in fact, who are doing such a stellar job in participating in
31 for 21
. Which by the way, I have totally
not
participated in, so thank goodness for the rest of you! I also have been remiss in commenting to all my blog friends and for that I am sorry. My body and spirit have been pulled in many directions lately, and because of that, I seem to only accomplish so much on any given day. Hoping those who know me and love us, will understand.