I gotta tell you, I hate that term "life skill". If you happen to have a child who has had an
IEP
, or has participated in any type of therapy, especially one where they receive services, and said services are paid for by entities other than yourself, I am certain you are familiar with the " life skill" thing. Zoey receives services through
CCS
here in California and if she does not meet or is at least making strides towards afore mentioned life skills, well, she is out of luck. She will be dropped. See my
"Crossroads kind of Suck" post
on my thoughts on her soon to be former PT and her walking "life skill".
My feeling is, and has always been, given Zoey's plethora of diagnoses, that her life skill, in this moment, is that she is simply living. When we start writing goals to dress and undress and stand at the sink and wash hands and so on and so forth, I just cringe. I have often said to people, try immobilizing one of your arms and one of your legs and then go about your day and see how that works for you. Throw in a cognition issue and well, you have just brought the difficulty to a whole new level. The idea that Zoey will dress and undress herself, unassisted, is, in my opinion, asinine. Just saying. But I will play along with the powers that be, but on the home front and in my time, I do things that I think are more within reach. Like how about we hit the feeding front.
Zoey receives most of her nutrition via her g-tube. After, kicking the oral feed habit after seizures and chemo, food to her, was a no go. Until 6 months ago that is. I finally have her where she eats 3 packets of baby food, three times a day, and another is fed to her at school. HUGE progress. At school, her amazing aid, whom by the way, I would do anything to have with me for well, forever, she decided it was time to try hand over hand feeding and Zoey has been agreeable and on occasion, she will attempt to do it all by herself.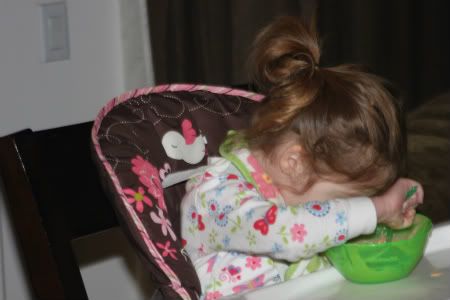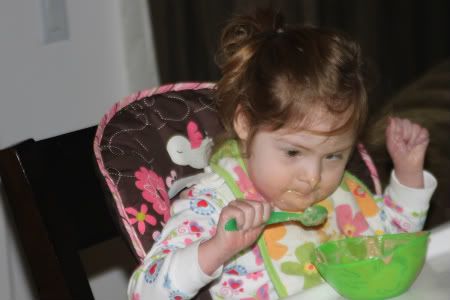 Look at her eyes crossing because she is concentrating so intently.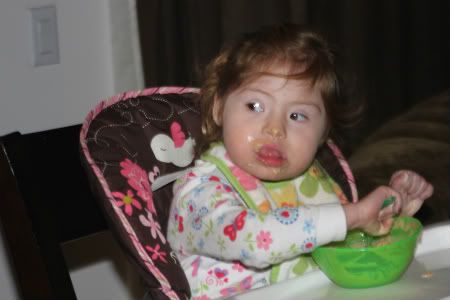 Look at her little left stroke hand fisting, because her right hand is engaged. Hate that.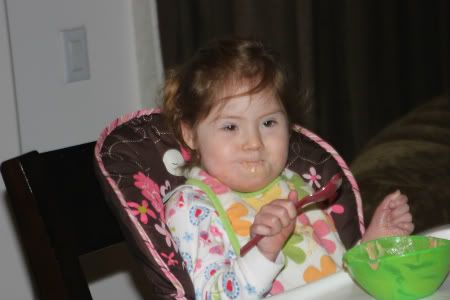 Switched to the
maroon spoon
with a bigger bowl surface.
So we gave it a shot the other morning at home at the end of her feeding and she managed to hang with it, until the very end, without hurling the spoon across the room. Stand by for the video however, and see how things go when she grows weary with playing along with this particular life skill practice.