Things were pretty magical around these parts. Lots to share. Too much actually, to share right now. In this very moment, exhaustion has caught up with me. Burnt out from the festivities and fun. And then, there is the little thing called non-stop organizing I have been doing the last few days. Yep, I am crazy like that. Every closet, cupboard, and dresser drawer, cleaned out. 5 bags of clothes and such, were dropped off at Goodwill this morning. Felt great. Purging and giving away. Cleansing. Great way to start the New Year. For now though, gotta share a bit of Miss Z with you.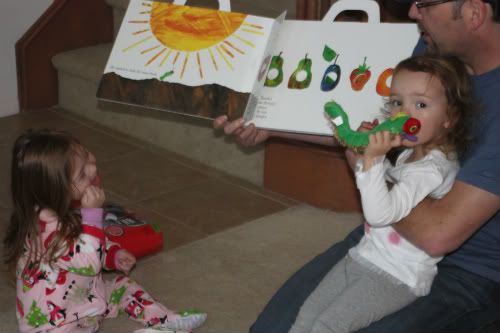 Signing apple
She received "The Very Hungry Caterpillar" book from Jessica's boyfriend's parents, Mike and Jean. Zoey was just so darling listening to Mark read it to her and Charlotte. So cute sitting there and signing along with the words she recognized.
Signing hungry
Reminded us all of the simple joys found in this season. I sat there watching her in all her loveliness and realized something I have been going back and forth on since Zoey's neurology appointment last week.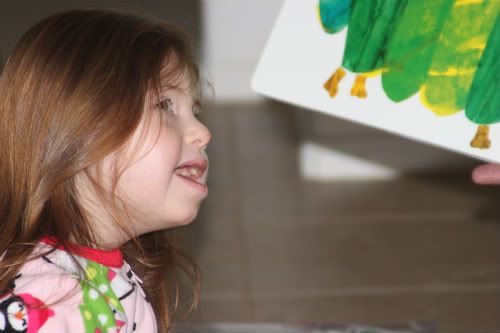 Which I must say, I was absolutely blown away by all the amazing comments and advice and wisdom filled words, shared by all of you. Such love and support of my girl. And also, let me say, I am sorry about my absence on so many of your blogs. I am trying desperately to get my groove back on and slowly but surely feel myself resurfacing .
Signing butterfly.
I have to tell you, that peace that I had initially felt, didn't last long and for now, watching Zoey, in all that she is today, and all that she has become, I just can't bring myself to start the wean. Just don't have the courage to risk the place she is in right now. That may change and probably will have to over time, maybe sooner rather than later, who knows, but as of today, no wean January the 1st. Status quo continues to be my trusty safety net.