Nice hodgepodge,uh?
After lighting reading the riot act to the mobility company handling Zoey's wheelchair,seems like they got moving pretty quickly after that.Which is a shame really.Why should we have to get snarky and forceful on these issues?Seems as if everyone did their jobs,the way they are suppose to be done, it would make everyone's life a whole lot easier.Most especially our children, that require the extra,extras in life. So... baring any glitches and don't you know there could always be one or two,Zoey should have her hot little pink rod, in about 2 weeks.Pretty cool.In fact,I was just thinking today,as I have a garage just screaming to be organized,how nice it would be to have a sturdy,comfortable,fitted place to put Zoey in,while I undertook the aforementioned task.Yeah,she could sit in her stroller,which is a cute little number itself,but it really doesn't fit her physical needs.A Physical Therapist,hers actually,would be a bit mortified at how NOT well she does fit in it.But it has served it's purpose and it is great to tool around in, but the wheelchair is going to be much better.At least I am hoping it will.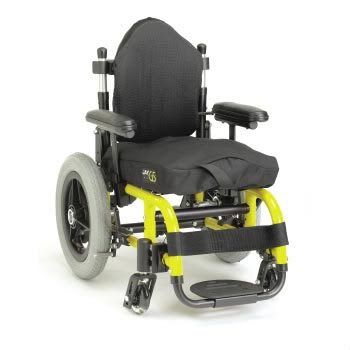 Her's is pink,with her name embroidryied on the back seat and the big wheels are fiited at the fron,in the hopes that one day she will be able to wheel it herself.Might prove tricky with one arm ...
As for the iPad,the one she was so generously gifted with a little while back,that should arrive in a week or so as well.After some legal mumbo jumbo,much of which I do not understand and much of which has been a gigantic headache for
Marissa's Dad
,they have been giving the go ahead to ship the iPads out to all 40 lucky recipients.So excited for all these children.And ... if your child or anyone you know of,could benefit from the iPad,hop on over to
Marissa's Bunny Blog
and check out the
2 Special Needs Giveaway
they are doing right now.Really awesome what Mike and his cohort's have put together and are making happen and anyway you can support their cause and spread the word,would be greatly, greatly appreciated.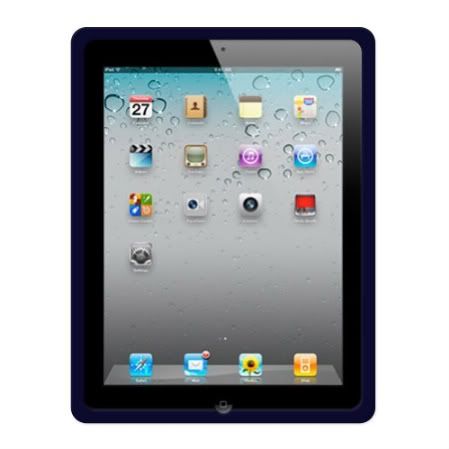 Onto the milk allergy.So, remember how I said that Zoey was allergic to milk,as in the past, as in before, as in no more?Well,I lied.At least I think I did.But like most things with Zoey,she is making it difficult for me to say for sure.See, I had been giving her yogurt through her g-tube when I did blenderized.Didn't seem to bother and no hives.Then she began eating and I tried it a few times and again,no problems,no hives.Then the other day,I tried again and all of the sudden she got this weird red splotchy rash thingy on her face.All around her mouth,kind of isolated where the yogurt was smeared on her face from being the messy little eater that she is.So,I am definitely in a quandary.Is it or isn't it an allergy of sorts still?I think I will lay off the yogurt for now and retry in awhile.Figures doesn't it?I really should learn to not utter certain things out load .They have an uncanny way of coming back and biting me.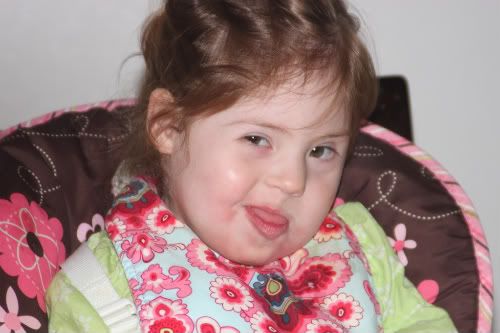 Ignore the goofy look,can you see the spots?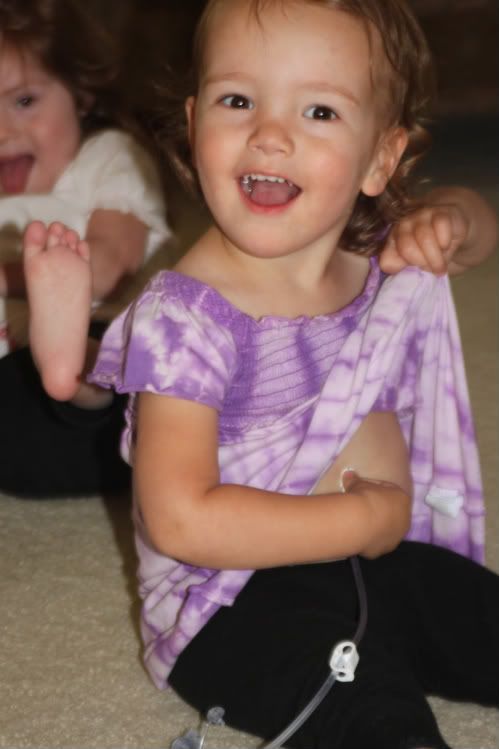 Comic relief... my granddaughter Charlotte,trying to g-tube feed herself.Cracks us up.
Finally onto the MRSA saga.Thankfully,we or shall I say she,has managed to avoid a procedure on the remaining pocket of well,not to gross you out,but pus.The area is a whole lot better and is almost nonexistent.Almost.So glad for that.But this latest episode was just an unwanted reminder of yet another something,something, we have to always be on the look out for.Bummer.That is for sure.
Just a few little updates for now.Summer break has officially begun,to the herald already of, "I'm bored."To which I say,tread lightly my little boys,because I can find plenty of household tasks to keep you plenty busy.In all fairness,that was a few days ago and today,they have been perfect.They have spent the last 3 nights "camping out" in the backyard.So fun.We also began swimming lessons today,which we pretty much do Monday through Thursday,all summer long.And,we are heading to the beach tomorrow.Our first of many,of the summer.More tomorrow or the next,on the rest of the crew and the goings on with them...